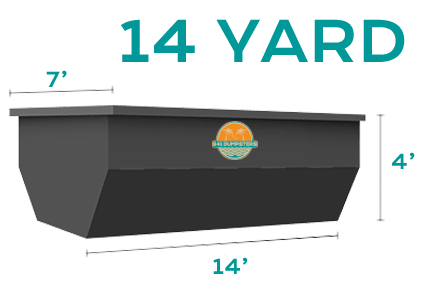 Construction Dumpster Rentals
$335 1-7 Day Rental Includes 1 ton of material CnD ONLY

Dimensions: - 14' long - 7' wide - 4' tall

4.5 truckload equivalent
Book Online Now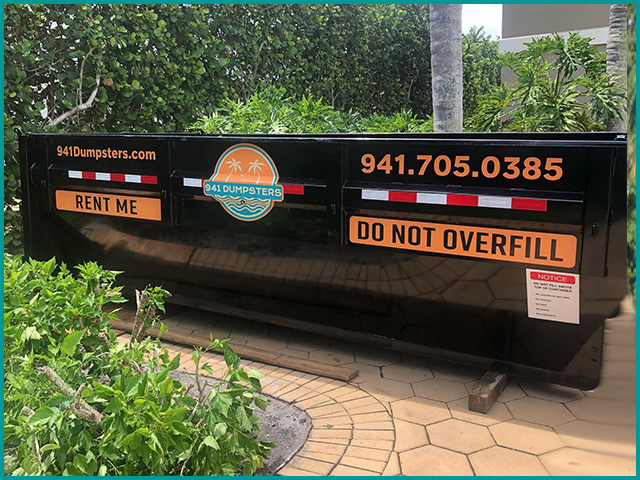 Roll Off Construction Dumpster Rentals
Our
construction dumpster rentals
are the perfect solution for cleaning up after remodeling projects. When doing a remodeling project, we tend to get a pile-up of rubbish. ' Most of this rubbish is building materials such as drywall, wood, vinyl flooring, light fixtures, and such. All of this can simply be hauled into the dumpsters and disposed of. Our dumpsters offer rear barn doors that will make it easy to haul in the trash, even the heavy stuff. Construction dumpster rental is a simple and fast solution to hauling out the construction trash with ease.
Getting a construction dumpster rental has never been easier. We offer construction dumpster rentals that are simple to order and book online. This allows you to get on with more important things in life.
If you are looking at a construction job and need to get a construction dumpster rental you have come to the right place. Our dumpsters are big enough to handle even some of the toughest jobs. We work with clients to ensure their dumpster is placed where they would like it. All commercial dumpster rentals are delivered right to the job site. When you are finished, let us know and we'll come and pick it up, it is that simple.
Book Online Today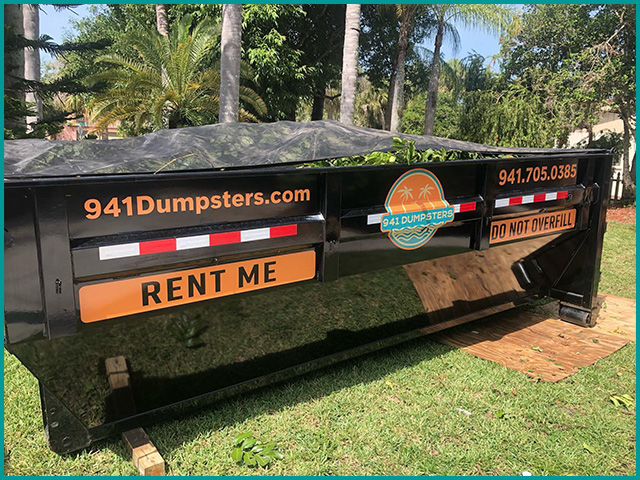 Construction dumpster rentals are great for home projects.
Construction dumpster rental is great for home projects. Some things that are not allowed into our dumpsters are food, medical, and hazardous waste. The only thing that might be on a construction job site is hazardous waste. We are not a trash removal service but only a dumpster rental service. Keep mind that the dumpster cannot be over the edges with trash. You can fill it up to the top but shouldn't have anything sticking out. This allows us to pick it up safely and dump it properly.
Keep in mind that if you are doing a roofing job, you are going to have some serious debris. While roofing, concrete, dirt, and pavers are accepted you need to get approval ahead of time. This sort of debris is a lot heavier than your normal construction debris. Give us a call and we'll be glad to help you out with this.
Construction dumpster rentals
are a perfect solution for those that are removing the shingles from the roof. Roofing projects cause a lot of debris. Having a dumpster on the ground floor can make a roof tear off easy! Just about any kind of roofing material can be put into the dumpster and hauled away, with permission, of course. It is that simple. The dumpster is great for throwing away all the wrapping from the new dumpster as well.
Book Today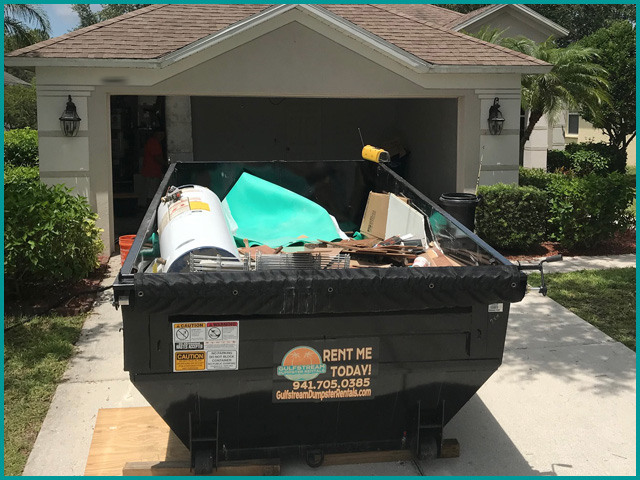 Dumpsters for kitchen and bathroom remodel
Looking at a living room, kitchen or bathroom remodel? Kitchen remodels can lead to lots of cabinets and flooring tear outs. However, when you have a construction dumpster rental, you have the peace of mind that you can keep your job site going without getting trash piled up. As you remove fixtures, counters, and old appliances, you can simply walk them to the dumpster. The back opens up, allowing 2 wheel dollys and such to assist with getting rid of the larger debris.
While we work with many contractors in the area on their job sites, we also can work with homeowners. If you have a home remodeling job that you are doing yourself, get yourself a
construction dumpster rentals
. We are proud to have some of the best construction dumpster rentals services in the Sarasota area. It is our pleasure to set up a time and place to drop off as well as pick up. We do all the moving of the dumpster for you.
Book Today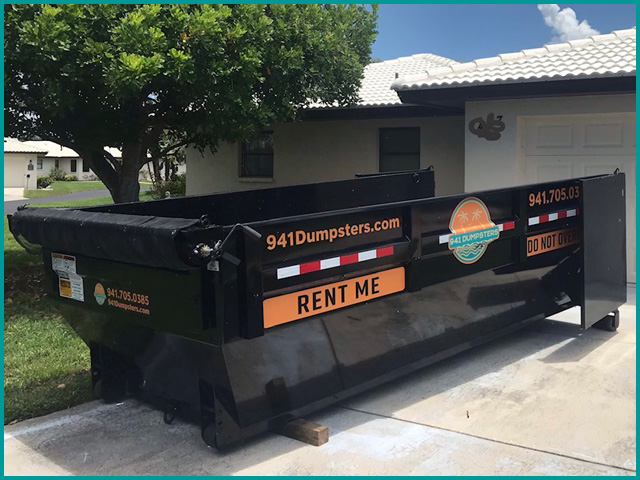 Get a clean and affordable dumpster.
Taking the time to get a dumpster has never been easier. You simply can book online. We are safe and affordable. Our dumpsters arrived clean and ready to go. If you are looking at a home project, what better way to get rid of the extra debris than a construction dumpster rental? These are made for home improvement projects. However, they are also great for yard waste removal, storage cleanout, garage cleanouts and so much more. When you are serious about getting rid of all of the debris at one time, a dumpster rental is a perfect choice.
Our dumpster rentals are offered for a variety of things. We have worked with homeowners as well as contractors and landscaping companies. We have some commercial buildings that have our dumpster rentals semi-permanently on their properties. This could be apartment complexes, small businesses, post offices, and more. If you have a need for an affordable dumpster rental that will remain on your property for a lengthy period of time, we can help. We work with dumpsters for all reasons.

Book Today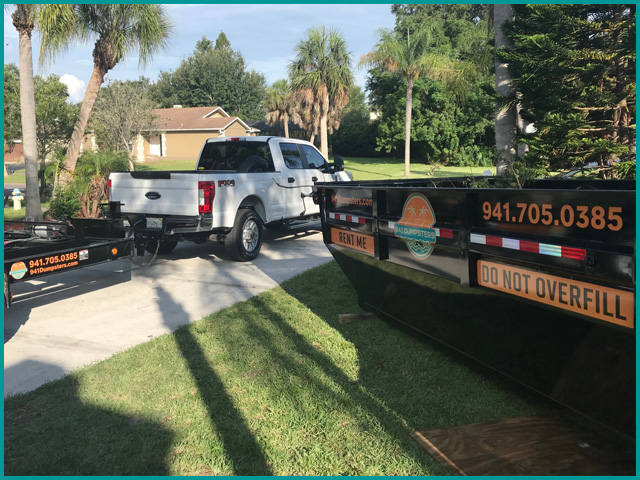 About 941 Dumpsters
Our Mission
941 Dumpsters
is dedicated to providing outstanding customer service while producing a superior experience for our clients
Our Vision
To provide every client with a painless, effortless, and seamless rental or service.
Our History
Having founded a party rental company in 2010 in Sarasota, Florida that served mainly Sarasota, Bradenton, Riverview, Brandon, Tampa, and the surrounding areas, we wanted to continue to provide our clients with excellent customer service. This is how 941 Dumpsters Rentals was born!
Contact Us
941 Dumpsters Service Area
We Proudly Serve:
If your location is outside of this service area, let us know! We frequently deliver units even farther out, and special accommodations can usually be made to suit your project.
NOTE: Extra fees may vary depending on how far you are outside our service area.