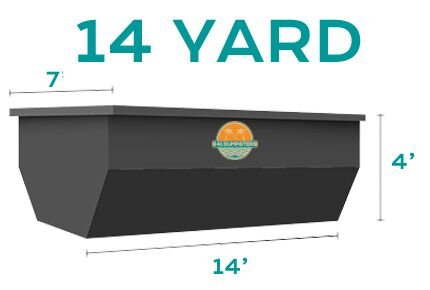 Dimensions: 14'L - 7'W - 4'T
Days Included: Up To 7
Extra Time: $20 / Day
Ton(s) Included: 1
Extra Tons: $100 / Ton
Description
Capacity - 4.5 truckload equivalent

Our 14-yard dumpster is the perfect fit for yard cleanup, house clean up, and small remodeling projects. This dumpster offers a lot of room allowing you to remove a ton of junk all at once. Need something a little bigger? Check out our 20 yard dumpster! Need something a little smaller? Check out our 10 yard dumpster!

Please note we will not accept food waste, dirt, concrete, roofing shingles, or pavers unless approved. Click HERE for nonacceptable things to place in the dumpster.