Items not Acceptable
Below is a list of unacceptable items and they are not allow to be placed in a dumpster. Failure to comply may result in other fees.
Dirt, Concrete or Pavers (Unless Approved)
Roofing
Paints / Solvents / Chemicals
Any Type Of Oil / Auto Waste
Tires
Batteries
Herbicides / Pesticides
Flammable Liquids
Aerosol Cans
Appliance Removal
E-Waste Disposal
Hot Tub Disposal
Propane Tanks
Fluorescent Tubes
Railroad Ties
Asbestos
Barrels
All Liquids
Please note that the above list applies to dumpster rentals. Contract us today as we may be able to haul these items away with our Junk Removal Services.
Dumpsters Rentals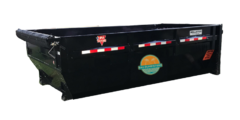 Junk Removal